Bodhi the Lodge Dog enjoyed starring in his own coffee table book. But he yearned to be introduced to more children. Now the same joyful photographs that first made Bodhi a hit have joined forces with laugh-aloud storytelling to create irresistible read-aloud iBooks for children featuring everyone's favorite yellow lab.
Bodhi and the Friendly Forest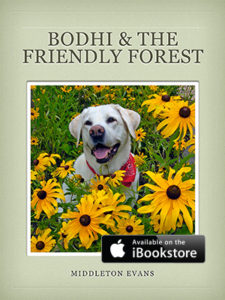 When Bodhi's best friends go to the beach and leave him all alone at the lodge, he pouts. Then a forest creature catches Bodhi's attention, and the adventure begins. Bodhi discovers a world of new friends who are different from him and yet very much like him in the ways that count the most. Sound effects create a sense of being in the forest with Bodhi, and the multi-voiced narration further enhances the appeal of this light-hearted story about a dog you can't help but love.
View on iTunes:
Bodhi & the Friendly Forest
Bodhi the Christmas Helper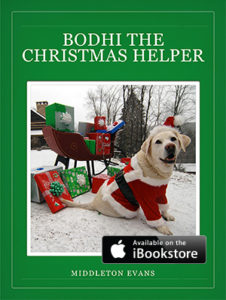 Even a dog knows there's a lot to do at Christmas! So when Bodhi wakes up one Christmas morning to a winter wonderland of snow, he determines to be the best Christmas helper ever! Roads need plowing, firewood needs fetching, skiers need rescuing, and so much more! Sound effects (screeching eagles! rumbling snow plows!) and narration add a "you are there" vividness to this tale of one loveable dog's outburst of Christmas spirit.
View on iTunes:
Bodhi the Christmas Helper
Both books are formatted for iPad, iPhone, or iPod Touch, and can be purchased at the iBooks store at iTunes.
Read Middleton's story behind the Bodhi children's books.